Casio MT-68
The MT-68 is very well equipped and makes good use of the potential found in the CPU NEC D 930 G (auto accompaniment CPU chip), which was built into many Casio keyboards. Besides 4 different bass and chord figures per rhythm pattern, 4 additional arpeggio modes are available. It even has functions comparable to a synthesizer's ADSR envelope on the melody sounds, but I'm not going into detail about it for now.
The analog drum circuits sound quite thin, though. The bass also rather plays melodious sequences than real bass figures, but uses 4 different bass sounds. The 4 different chord sounds are warm and vary from elaborate rhythms to ponding, areal chords.
Tampering with the cutoff frequencies didn't lead to more voluminous results, either. So I often use the MT-68 as a "sequenzer" in combination with a drum machine or a bass-orientated keyboard.
After trying around a lot, I decided on the following modifications:
Mute switch for bass and chords
Mute switch for almost all singular drum sounds
Additional "tempo fine" controller
Sustain values of bass and chord sounds can be altered by switch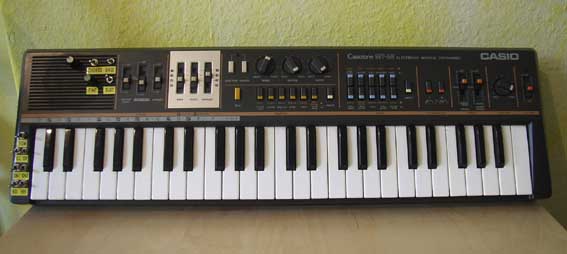 Sound example