Casio PT-80
The PT-80 looks quite similar to the PT-30 and even holds about the same bank of melody sounds. So, the melody soundchip is identical, but the auto accompaniment is distinctly different.
Many different chords can be selected from a special keypad, which can then be played to the rhythm in the usual "Way of the Casio Chords". The bass and chords sound rather squarewave-like. The drum sounds are fantastic, dynamic und analogly extraodinary. Due to my modifications, extreme "down-pitching" is now possible, effecting bass, melody sounds and chords, als well as the drum sounds.
The modifications:
Mute switch for almost all singular drum sounds
Long decay and low attack switch for "wet" open hihats
Long sustain switch for the snare
Mute switch for snare noise and snare tom
Snare pitch controller
External sync input for BD, SN and HH
Switch for pitch ON/OFF and 1-octave-down pitch
Sync out for either BD, SN or HH, electively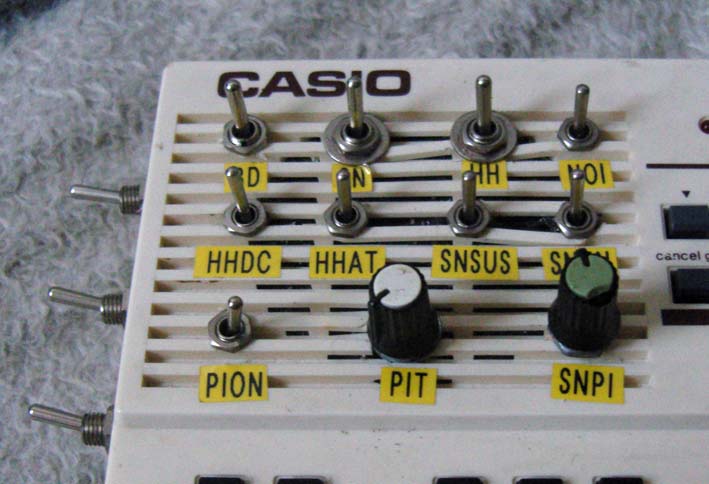 Sound example
Here's a youtube video demonstrating the PT-80 which is triggering a Coron DS-7 drum oscillator via sync out.